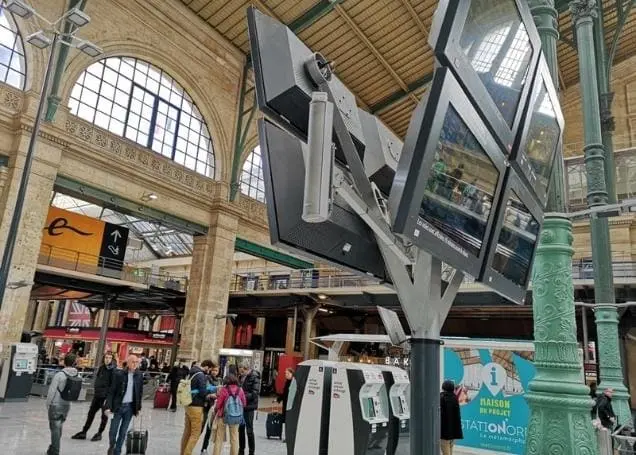 The purpose of the installation of sound equipment in railway stations, airports, and underground stations is to ensure that passengers are kept safe and well informed. The combination of the noises produced by machines and travellers make transport hubs particularly noisy spaces, which therefore do not facilitate the comprehension of broadcast messages. Intended to host a large number of members of the public, these spaces are generally built using hard and acoustically reflective materials, which compromise intelligibility.
Ensuring people's safety requires that products adhere to very strict quality standards, and as such, the EN 54-24 certification attesting that the performance and quality of manufacture of speakers are compatible with requirements for public evacuation, along with the water and dust protection (IP) or impact protection (IK) ratings, are often necessary in transport venues.
Installation of sound equipment in transport hubs: the right questions to be asking
The first questions to ask yourself when defining a sound system for a transport venue depend on the regulatory context and the environment. Is NE54-24 certification necessary? Must the speaker have a protection rating with regard to protection against water and dust (IP)? Will the speaker be subject to impact?
The acoustics of the space will also be of importance when selecting the system. Is the space reverberant? Are there reflective surfaces located far away from, but within the axes of the speakers?
Then you will have to focus in on the functional requirements. What are the surfaces for which sound equipment must be installed? Must noise pollution be limited between spaces or zones?
Installation of sound equipment in transport hubs: solutions
Active Audio Ray-On speakers are EN54-24-certified for installation within evacuation sound systems. Their aluminium casing, their metal grille, and their design enable the Active Audio speakers to continue to function over long periods of time, within damp and dusty environments (IP55/ IK08).
Thanks to the patented DGRC technology, Ray-On limits the impact of reflections on surfaces located far from the speakers, making it easier to understand what is being said.
With its tight horizontal aperture angle, the B70 enables the limiting of disturbances between spaces. Concentrating the sound energy on a station platform, or limiting the impact of the railway station sound system on the neighbouring area thus becomes possible.
As a result, the SNCF, the RATP, Swiss Rail, the Australian railway network, and the Aéroport de Paris have been using Audio Ray-On active speakers to inform passengers and keep them safe for several years.