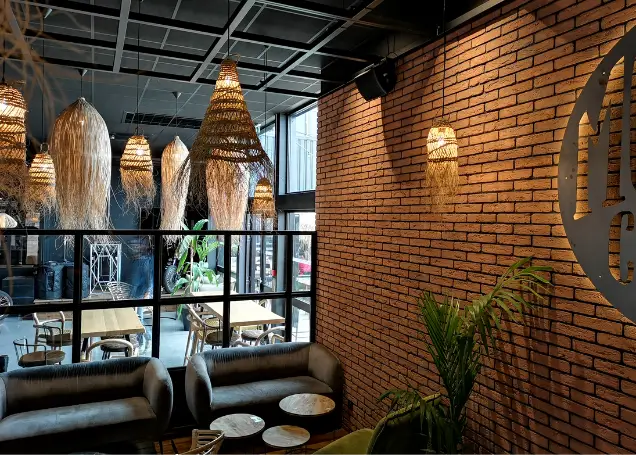 Places of celebration and fun; clubs and bars are developing and are diversifying their activities: catering, live music, dance floors, after-work parties… For these venues, the public is looking for a pleasant sound, with deep bass sounds, and treble frequencies that are present but without being aggressive.
For clubs and bars, limiting disturbance to local residents and protecting their customers' hearing are at the heart of their concerns, and must be considered when selecting the sound system.
In the summer, business can sometimes temporarily move outdoors: onto beaches, terraces, activity or leisure areas - and in each case, the level of quality offered must be on a par with that experienced throughout the year.
Installation of sound equipment in clubs and bars: the right questions to be asking
A venue dedicated to jazz will not have the same sound equipment as an electro club. What are the preferred styles of music within the establishment? What degree of versatility is desired? These questions will enable the dimensioning of the sound system of the bar or club in terms of the power and dynamic reserves, with a view to achieving a powerful sound and limiting distortion.
The architecture of the hall and its acoustic insulation will strongly influence the chosen sound system in clubs and bars. At what sound level will the sound system be required to work? Answering this question will often require that you work with an acoustician, who will perform a sound level impact study. What are the installation constraints? What is the ceiling height? These questions will allow you to select the speaker technology that will offer the best coverage.
The mode of operation must also be analysed. Must the system be divided into calmer zones for ambient music and zones with a higher volume, for concerts or a dance floor? How, and using which system, is it operated? What control interface must be implemented?
Installation of sound equipment in clubs and bars: solutions
The solution known as multicasting, which consists of positioning a large number of speakers positioned close to the listeners, enabling a response to the issues encounters when providing sound in clubs and bars. In order to succeed in this type of project, the selected speakers must have a large, angular aperture in order to provide sound to a large space, and to enable optimised filtering, so as not to annoy the listener in spite of his/her proximity.
APG coaxial speakers, equipped with NDB (No Diffraction Baffle) technology, have an aperture and a sound that is perfectly suited to bars and restaurants. It is for this reason that they have been installed in prestigious venues such as the Tahiti Beach in Pampelonne or the Café de Paris in Saint-Tropez.
The VENDOME range from Active Audio combines Hi-Fi quality audio and a meticulous and customisable aesthetic, for an installation that will satisfy even the most luxurious of venues.
APG is also renowned as a supplier of sound equipment to leading night clubs, be this in China or even in St Martin in the Caribbean. The Matrix and UNILINE systems, which feature ISOTOP technology, deliver a powerful sound, without coming across as aggressive, much to the delight of clientèle and DJs alike.