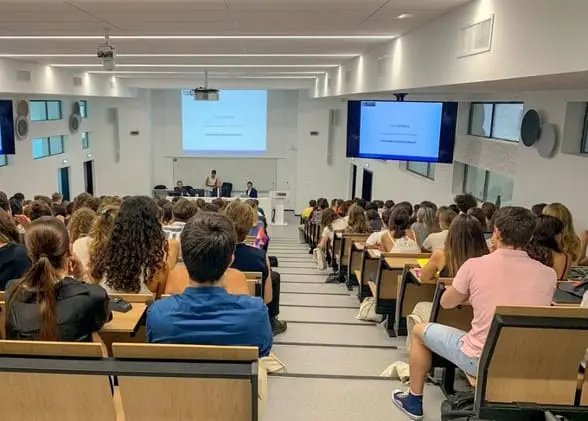 The purpose of sound equipment in lecture theatres/auditoriums in schools and universities is this: to increase the level of comfort of the teacher or tutor in preventing him/her having to raise their voice, and to enable students to listen to presentations, which can in some cases last for several hours, without any effort. The session will thus be pleasant for both the listener and the speaker.
The sound system must therefore transmit natural-sounding audio, must adapt to the acoustics within the room, and must not interfere with microphones by producing a hissing sound known as the Larsen effect.
Auditoriums are often iconic venues featuring elaborate architecture, often of heritage or historic interest, and as such, sound systems for schools and universities are often required to be integrated perfectly into the venue, remaining visually discreet.
Installation of sound equipment in auditoriums: the right questions to be asking
Success in an auditorium sound system project requires the precise definition of its functions and limitations. Is the system dedicated entirely to voice transmission or must it also broadcast music? Do video soundtracks require optimal restitution? What are the installation constraints? Is there a significant distance between the speakers, due to the presence of a projection screen, for example? Is the speaker's microphone located close to the speakers? The answers to these questions will guide the selection of the most suitable technical solution, and will enable the provision of the required performance levels at the best possible price.
Sound equipment for auditoriums: solutions
If the project requires voice amplification, if there is a large distance between the speakers, and if the acoustics within the room are sensitive, then Active Audio column loudspeakers offer an optimal solution for these spaces. The patented DGRC technology enables the simple adjustment of the performance of the speaker to suit the acoustics in the hall. The sound is natural, speech is clear, and the Larsen effect is eradicated. The finesse of the speakers, their vertical installation, and the ability to paint them in a RAL colour identical to that used in the room enables installation in keeping with the work of the respective architect.
If the project requires high-quality music playback with deep and forceful bass, then the APG SPOT2.6 or Uniline Compact products, offering good directivity control and an extended bandwidth, will provide a high level of versatility for the auditorium.
From a high school auditorium to those found in large university faculties, Arbane Groupe has the sound equipment solution to suit your auditorium, and has been selected by prestigious institutions such as the Sorbonne, Science Po or the Condorcet Campus.